Louisiana 2002 State Quarter:
Unveiling the Pelican and the Historic Louisiana Purchase Legacy
Introducing the 2002 Louisiana State Quarter, a vibrant coin that celebrates the state's cultural and historical significance. This captivating design showcases the iconic brown pelican, Louisiana's state bird, alongside a trumpet emitting musical notes. The coin also features an outline representing the vast land acquired by the United States in the historic Louisiana Purchase from France.
In 1803, President Thomas Jefferson acquired a staggering 530 million acres of land, encompassing the heartland of present-day America, from French ruler Napoleon Bonaparte. This monumental purchase, valued at $15 million, forever shaped the nation's geography.
The Louisiana state quarter pays homage to Louisiana's rich musical heritage, rooted in diverse cultural influences. The fusion of musical traditions, including those brought by enslaved Africans, laid the foundation for the birth of jazz, a truly American art form.
Experience the 2002 Louisiana State Quarter, an exquisite tribute to the state's natural beauty, musical legacy, and its pivotal role in shaping the United States through the historic Louisiana Purchase.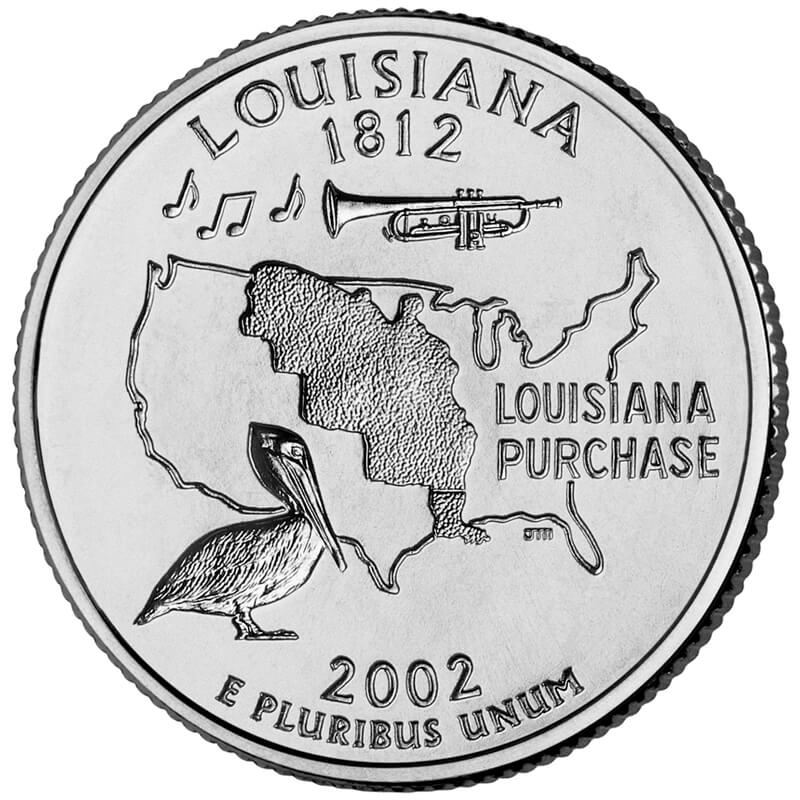 ---