Ohio 2002 State Quarter:
Paying Tribute to Ohio's Contributions to American Ingenuity and Progress
Introducing the 2002 Ohio State Quarter, a captivating tribute to the state's monumental contributions to aviation and space exploration. The coin proudly showcases the historic significance of Ohio with a depiction of the Wright Brothers' first plane on the left, an astronaut on the right, and the outline of the state in the background, adorned with stars.
Ohio holds the distinction of being the birthplace of the Wright Brothers, who revolutionized the world with their pioneering aircraft. The inclusion of an astronaut pays homage to two renowned Ohio natives, Neil Armstrong and John Glenn, who made history with their ventures into space.
With the caption "Birth Place of Aviation Pioneers," the 2002 Ohio State Quarter serves as a reminder of Ohio's profound impact on the realm of flight.
It's worth noting that the Wright Brothers' first plane also appears on the 2001 North Carolina State Quarter, commemorating the site where their groundbreaking flight took place.
Celebrate Ohio's rich aviation heritage with the 2002 Ohio State Quarter, a token of the state's ongoing legacy of innovation and exploration.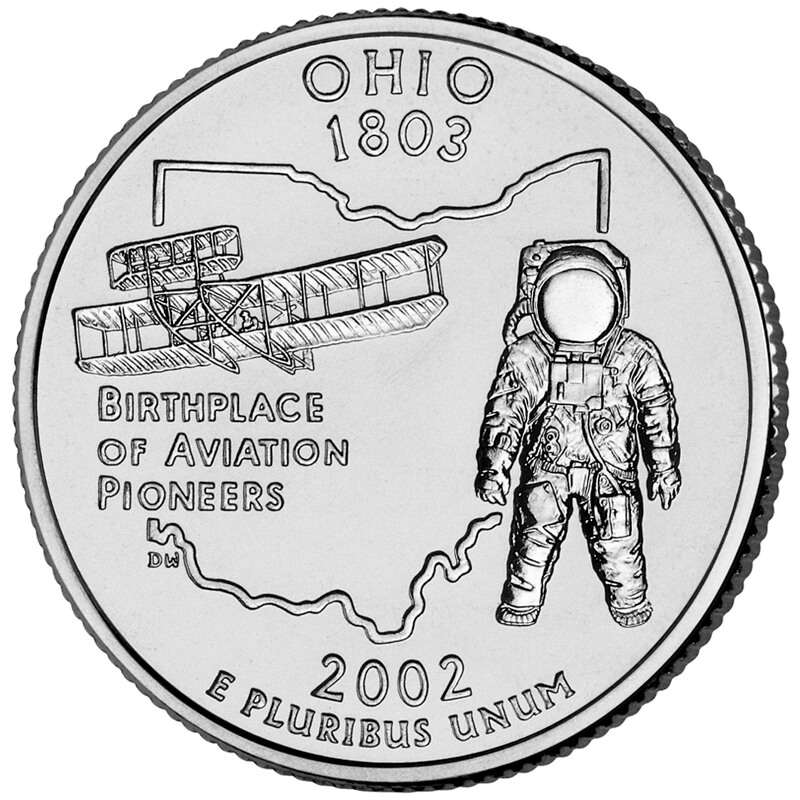 ---